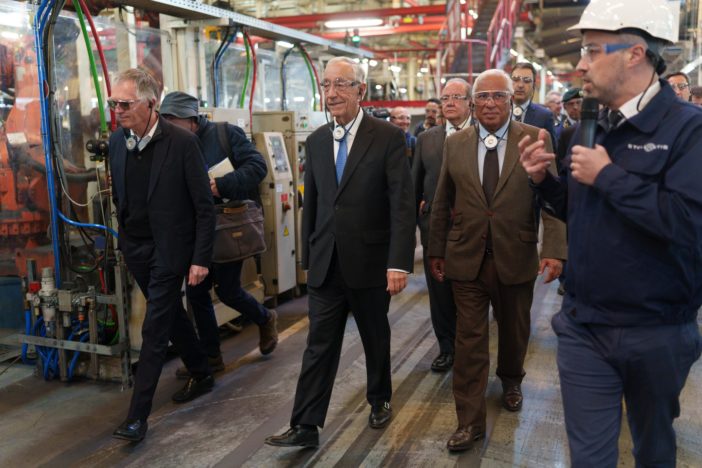 A Stellandis anunciou planos para fabricar veículos elétricos em Portugal. A partir do início de 2025, o centro de produção de Mangualde será a primeira fábrica de montagem em Portugal a produzir em massa veículos comerciais ligeiros elétricos (LCV) a bateria para Citroën, Fiat, Opel e Peugeot. O CEO da Stellandis, Carlos Tavares, fez o anúncio durante a visita do Presidente português Marcelo Rebelo de Sousa, do Primeiro Ministro Antonio Costa e do Ministro da Economia e Assuntos Marítimos Antonio Costa Silva.
')
}
// –>
The vehicles being produced at Mangualde are the Citroën ë-Berlingo, Peugeot e-Partner, Opel Combo-e, and Fiat e-Doblò models, both in light commercial and passenger versions. Mangualde will become the first Portuguese plant to produce large series fully battery electric cars for the domestic and export markets at launch.
"We are proud to announce that Mangualde will enter a new era with the production of large series of battery electric vans in Portugal to provide indispensable solutions for our business customers," said Tavares. "Leveraging Mangualde's manufacturing expertise to build battery electric vehicles is critical to the continued decarbonization of our fleets and a further step as we work to achieve a 40% zero emissions mix by the end of the decade."
The Stellantis plant in Mangualde, which last year celebrated its 60th anniversary and was the first auto assembly plant in Portugal, has produced more than 1.5 million vehicles to date. Nearly one in every four vehicles produced in Portugal comes from the Mangualde production line. It launched production of the current generation of vehicles in 2018.
This announcement ensures the future of the plant and confirms the importance of this manufacturing site for the Portuguese economy, Gross Domestic Product and Exports, as well as for employment and the development of the business and industrial fabric of this region.
In 2022, Stellantis was the light commercial vehicle BEV market leader in Europe with nearly 43% market share. In Portugal, the Company was the leader in 2022 in BEV sales, with 22% share, and in the sale of electric commercial vehicles with a 54% market share.
"Guru gastronômico certificado. Especialista em Internet. Viciado em bacon. Entusiasta de TV. Escritor ávido. Gamer. Beeraholic."